Hey ladies! I just wanted to share a quick post about a new project I learned about recently. It is launching SOON.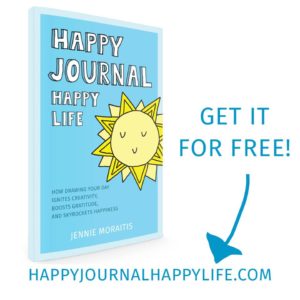 Jennie Moraitis, of Little Girl Designs is releasing a book called, Happy Journal, Happy Life. I snagged an advance copy and I LOVE it. It's a fantastic way to focus on happy moments and capture positive emotions that can point back to God's blessings and truth.
As I started reading the book, I remembered sitting on a plane on the way back from Peru, doodling about favorite things that happened on the mission trip I'd just joined. Then on a plane on the way back from Albuquerque New Mexico, I did the same. I did a bit of doodling when I was in the UK a few months too. I love looking back at them, but I'd never thought of making it a regular form of journaling. Until now!
Sunday Night, as I was going through the bedtime routine with my boys, I asked them about their favorite happy parts of the weekend, then I doodled them in a journal. Granted, it was no work of art (in my defense, I was nursing the baby while rocking in the rocking chair WITH the room lights off for the majority of it), but I just wanted to capture some of the images, even if only in rough stick people form.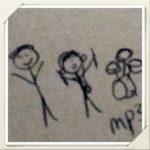 I'm sure you've heard the saying, "a picture paints a thousand words." Happy journaling is a way to say thousands of words with just a few small images. It's fun and speaks volumes.
Not only is it a fun way to journal, it supports what we've been discussing here at Every Day Incredible – changing the channel to what is good, true, helpful, healthy… well, refer to Phil 4:8. It can help keep you focused on the good stuff.
Jennie is giving away free copies of the book on launch day. People can get their free copy on launch day by registering at happyjournalhappylife.com. It's only free until Sunday, Nov 5th 2017, so go now!
I just want to note that I am not an affiliate… this is just a project that I LOVE and want to share. Go check it out!
Be watching for challenges in the Every Day Incredible Ladies facebook group soon! Good things happen when we devote time focusing on good things!