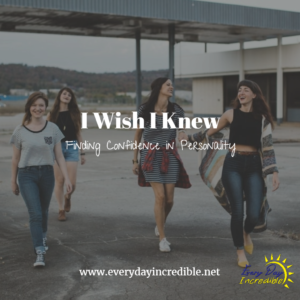 Have you ever been tempted to compare yourself to others? Maybe there is a specific person you have always wanted to be just like. Maybe it's more of a group of people that you have watched and silently wished, "if I could only be like them…"
I was always pretty shy when I was growing up. I felt easily intimidated by the "popular kids" at school and noticed every flaw about myself that kept me from being one of them. If I wasn't among my group of friends, I generally stayed quiet. I often felt like an outsider.
I wish I could get a message to my younger self today, after gaining some life experience. There are things I know now that I wish I'd known then.
I wish my younger self would have realized that the ones who were most popular were popular largely because they acted most confidently. It wasn't because of how fit, well-dressed, or pretty they were, though those things helped to give them confidence, or at least the appearance of confidence. I wish I knew how even "popular kids" have struggles. I wish I'd understood just how interesting our differences make us. I wish I knew to focus on what makes me feel confident and not on what makes me feel inadequate. I wish I realized that it's okay to not be liked by EVERYONE – because nobody is. I also wish someone had told me about CLEP exams and how I could have saved time and money in undergrad, but that's a whole other story…
We all have stories and unique perspectives on the world. We have different personality types that draw us in different directions. We truly are a mosaic of human life, in both visible attributes and those below the surface. I love telling stories of my experiences. I enjoy sharing about international travel, people I've been blessed to meet, and new things I've tried. As relational beings, we have the innate desire to share life with one another – to connect with and learn from one another. We don't really enjoy sharing about our flaws, but they are part of us too. Each personality comes with both strengths and weaknesses. We each make mistakes and experience wins. It's all part of what makes us uniquely us.
It's easy to compare ourselves to our ideal image, especially in this world with social media bombarding us with the highlights reels of everyone around us while we sit and sift through our bloopers reel, critiquing each mistake and flaw.
When I was going into undergrad, I sat for the Myers-Briggs Type Indicator, a personality assessment that identifies personality types. I was fascinated how well the resulting "ENFP" type and additional information described me and my personality. Though life experiences have somewhat shifted my personality since then, it still amazes me. I want to encourage each of you to visit www.16personalities.com/free-personality-test and find out what your personality type is. Come to the Every Day Incredible Ladies group to share your personality type. Does it fit you?
Allow yourself to set aside your bloopers reel and pull out your own highlights. Take some time to reflect on your own story. What experiences, traits, skills, and strengths make you unique and incredible?
The Bible verse I'd like to leave you with today is Isaiah 64:8:

Yet you, Lord, are our Father.  We are the clay, you are the potter; we are all the work of your hand.
If you would like some more personalized support as you work to balance your life and find your confidence, check out the "take the next step" tab here at everydayincredible.net. Check back next week for more thoughts on finding Christ-centered life balance. What areas of life do you find are most difficult to balance? I look forward to hearing from you in the groups and want you to remember that every day is full of opportunities, so make every day incredible!