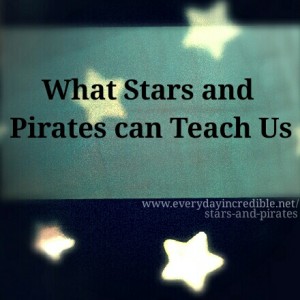 Recently, I surprised my son by putting up glow-in-the-dark stars on the ceiling of his room. As we discussed our observations about the stars, I would ask questions such as, "what do you notice about which stars are brighter?" I explained to him that the stars absorb the light so they can shine in the darkness. I quickly realized that the stars are an excellent analogy.
     When we are doing well, life is going along smoothly, and we have time on our hands, that is when focusing on caring for our emotional health is very, very important things to do. If we wait until times are dark, and we're feeling overwhelmed with depression, grief, anxiety, or anger, we won't have anything left in our emotional coping storehouse if we haven't been working to build our supply. It is when we are doing well, that we need to be sure to address the painful or dark emotional experiences. It's when we are doing well that it's important to bring those dark emotions to the surface. We need to acknowledge them, name them, cope with them, and send them on their way.
     If we don't address them, painful, unpleasant emotions have a way of simmering under the surface until the world around us gets dark, and then become terrifyingly suffocating as we sink into the darkness.
     Imagine, for a moment, being in a large body of water. In the daytime, you can see everything around you because the water is clear and everything is illuminated. When it gets dark or the water becomes murky, however, and you can't see what may be lurking under the surface, it could be quite terrifying. It can be very tempting to make an effort to avoid  unpleasant emotions by "bottling them up," or "stuffing them in." Regardless of the phrase you use, the concept is the same. We basically drop those emotions under the surface, out of sight, only to haunt us later when our world once again becomes dark and we're treading water.
     To give another analogy using my lovable four-year-old, after discussing the stars, we discussed a little stuffed Ty Monstaz creature he has had for a very long time. Patch, the Pirate Monstaz, had
been on a shelf and hadn't been touched for quite some time. My little guy had not heard Patch's voice for probably a year or more. What he remembered about the plushie pirate, though, was that when he was smaller, it scared him.
     Even though he was older, and knew the toy probably wouldn't scare him like it once did, he was still acting like he was scared of it. Granted, it may have simply been an attempt to elicit a sympathetic reaction from mom, but that's okay too. So, we had a discussion about how things may change as we get older, and it's important to listen to it again, to see if it was maybe not as scary as he once thought it was. Eventually he agreed, and we did. 
     Once he heard it again, he decided that it wasn't so scary after all, and has actually been fascinated by it once we googled it to try to figure out the gibberish he spoke before saying, "walk the
plank, mate!" (Hint: to create the gibberish, it seems the company flipped audio recordings backward…. fun!) 
It's the same way with our emotions. What may seem scary to us at one time may actually not be as bad as we think once we lay it out to examine and deal with it. It's interesting to note that avoiding anxiety-producing triggers actually serves to strengthen the anxiety rather than helping us cope with it. The more we put off doing something that scares us, the more we actually feel scared of whatever it is we are avoiding. Have you found that to be true? 
     Going back to the glow-in-the-dark stars, they are also a significant analogy of our spiritual health. We need to be soaking in the light when we can so when times are dark, we can still shine. As my son and I looked at the ceiling, it was obvious that the brightest star was the one that had been closest to the light source. It stood apart from all the other stars because it soaked up as much light as possible. Staying close to the light gave it the unique ability to shine brightly into the darkness and make a difference by bringing a smile to the face of a sweet little boy- and his momma.
Matthew 5:13-16
"Ye are the salt of the earth: but if the salt have lost his savour, wherewith shall it be salted? it is thenceforth good for nothing, but to be cast out, and to be trodden under foot of men. Ye are the light of the world. A city that is set on a n hill cannot be hid. Neither do men light a candle, and put it under a bushel, but on a candlestick; and it giveth light unto all that are in the house. Let
your light so shine before men, that they may see your good works, and glorify your Father which is in heaven."