Where are you, and where do you want to be?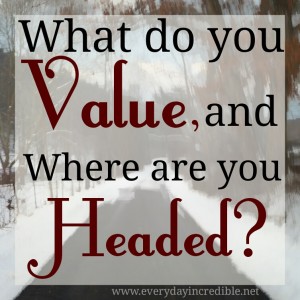 Hello! My name is Keri. I'm a work-from-home wife and mom of 2 adorable little boys on earth and their well-loved sister in Heaven. I'm also a Licensed Professional Clinical Counselor, Executive Director of The Carys Rainn Foundation, Independent Consultant for Lilla Rose, author, artist, and entrepreneur.  I have many hats to wear and many tasks to juggle, but I'm right where I want to be (all things considered), headed in the direction I want to go. Don't get me wrong, I have my struggles like anyone else, but I'm thankful for where I've been. I've had a lot to learn and I'm excited for this new opportunity to share what I've learned so far in my journey with others.
As I've given thought to what I want to share as a first article here at Every Day Incredible, the question above is a question that stands out to me. Our overall goal here is to support good health and wellness and encourage ongoing personal development.
As with any new venture, it's always a good idea to begin with self-evaluation. So I'd like to begin by asking you, to help you determine where you are,  what in your life is most important to you? What are your top values?
Look over the list below and select 4-6 values you believe are absolutely most important to you. How would you define them, and what makes them most important to you? I encourage you to write out your answers! In fact, it would be a great idea to keep this exercise in a personal development journal if you'd like. I'll have to admit, when I did a similar exercise years ago, I was slightly surprised when I actually put into words what values were most important to me!
VALUES
Admiration
Accomplishment
Acceptance
Adventure
Activity
Artistic Expression
Attention
Beauty
Being well-liked
Being ethical
Bravery
Challenge
Calm
Children
Control
Cleanliness
Courage
Consistency
Compromise
Communication
Creativity
Contentment
Companionship
Dependence
Discipline
Diplomacy
Dreaming
Entertainment
Energy
Enthusiasm
Faith
Faithfulness
Fairness
Family
Friends
Fitness
Fact
Free Time
Giving
Having enough money
Humor
Home
Honesty
Health
Independence
Justice
Kindness
Love
Legacy
Logic
Loyalty
Memory/Memories
Openness
Peace
Popularity
Punctuality
Patience
Prosperity
Playfulness
Praise
Presentation
Predictability
Quiet
Relationship with God
Relationship with Others
Religion
Routine
Romance
Responsibility
Respect
Resiliency Reason
Spirituality
Serving Others
Sobriety
Self-Sacrifice
Social Status
Success
Self-Care
Satisfaction
Spontaneity
Tradition
Trust
Time Alone
Understanding
Vitality
Wisdom
Winning
Work Ethic
Wealth
Youth
Now, ask yourself… what values are you living? If your spouse or children were asked what is most important to you, what would they say? On what do you spend your time and money? What are you teaching your children to value?
If what you claim to be your top values isn't matching up with what you're living… what needs to be adjusted in your life? 
We want to help you grow and develop your own goals in life. Comment below by sharing your top 4-6 values (giving your definitions too would be even better). We look forward to hearing your feedback!
Just remember, life gives us opportunities every day, so make every day incredible!