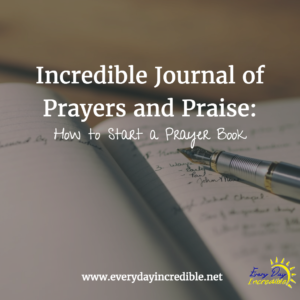 In our Every Day Incredible Ladies: Digging Deeper group, we are starting prayer journals. As with any journal, there are many approaches we could take, but I wanted to share with you a glimpse of what we are doing in the group to start creating our own prayer books that include Bible journaling and praise journaling.
First though, let me give you a why. One big reason is that it can be easy to forget how far you've come if you're not keeping records of your journey. Being able to look back on answered prayers can work wonders for your faith. Otherwise, sometimes we forget what we have been praying for. Another reason is so you can go back and pray those prayers again. There is a lot of power in praying them out loud as well. Some prayers can also be shared to help others in their faith.
There are many other reasons to keep prayer and praise journals. Feel free to share your reasons in the comments!
Moving on, I want to share some ideas for you as you choose a journal to begin.
– composition notebook
– diary style, hard back
– 3 ring binder of any size
– sketch book for an art style journal
– find an app to use
– use Google Keep or Google Drive (With Keep, you can use #tags to separate by prayers, praises, needs, happy moments, etc.. With Drive, try creating folders titled with the month and year. Both are accessible from a smart phone, tablet, or desktop/laptop without having to carry around a physical book.
Whatever you choose to use, make it your own. If you are using a physical book, try decorating the cover. Do a collage. Paint it. Draw on it. Cover it. Whatever you want… but let it be something that in inspiring and encouraging to you.
Fill it. If you use a 3 ring binder, you could try creating sections for praise, prayer, happy thoughts, etc. Move things around if you need to move them!
As you begin your journal, try these ideas:
– Print/write scripture with truths you want to use in prayer
– Print/write prayers you find online/ on pinterest/here
– Write your OWN prayers that address what you are currently facing.
– Write your own "breath prayers" – quick, one-line prayers you can pray throughout the day, every day.
– Write your gratitude
Above all,  keep it positive! Focus on truth!
Rather than using your journal as a place to vent, use it as a place to turn to God. Rather than telling Him the problem, Thank Him in advance for how He is working in the situation. Claim the promises you find in Scripture. Write what God is teaching you through your current situation (if you aren't sure, ask Him for wisdom, discernment, and understanding so you know His will for you and your actions/attitudes may be pleasing to Him).
Share the lessons you are comfortable with sharing in the Every Day Incredible Ladies facebook group! Share the verses you find that are significant to you. Share the prayers that you find powerful. The groups are designed to be a place where all group members can build one another up so we can run the race together. Sharing the comfort with others that you receive from God is not only scriptural, it gives what you are facing a deeper purpose and therefore helps you to be better able to cope with it.
Share your journal prompt ideas and other journal ideas in the Every Day Incredible Ladies facebook group too! What are you using for your journal?
If you are interested in joining the Digging Deeper! group, check out the "take the next step" tab or go to http://diggingdeeper.everydayincredible.net  Don't forget to sign up for the mailing list for freebies, updates, and offers, and add us to your contacts so you don't miss anything! I look forward to hearing from you in the groups, and remember – there are opportunities every day, so make every day incredible!