What is the first thought that comes to mind if I say, "Get healthy"? My guess is that the majority of you (though maybe not all) immediately associated the phrase with physical fitness and dieting. Did you have another association?
Physical wellness is only one dimension of many to take into consideration when you think of your overall wellness. The Substance Abuse and Mental Health Services Administration (SAMHSA) promotes a national wellness initiative focusing on the 8 dimensions of wellness. Those dimensions are: emotional, financial, social, spiritual, occupational, physical, intellectual, and environmental. That's a lot more than just exercise and dieting!
Ultimately, it comes down to giving each area of wellness adequate attention and keeping life balanced. Neglecting any of these areas can have a negative impact on overall wellness.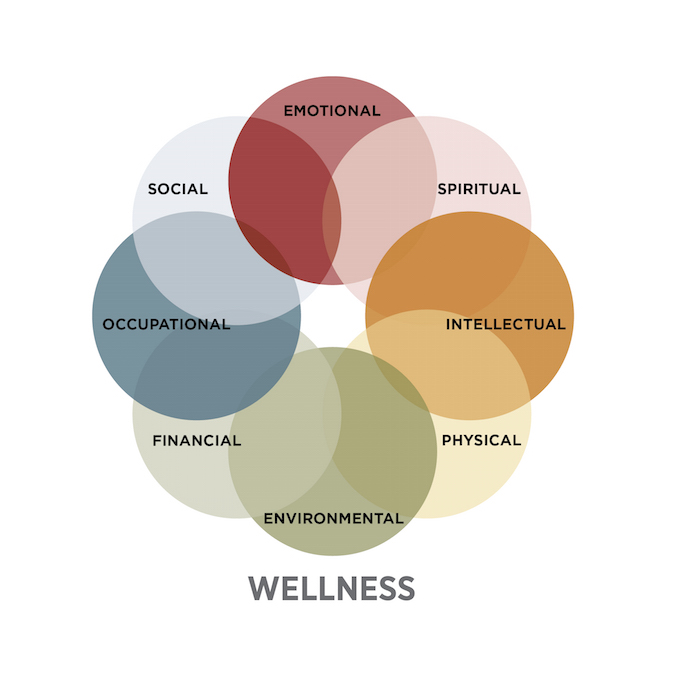 SAMHSA describes each area as follows:
EMOTIONAL- Coping effectively with life and creating satisfying relationships.
FINANCIAL – Satisfaction with current and future financial situations.
SOCIAL – Developing a sense of connection, belonging, and a well-developed support system.
SPIRITUAL – Expanding our sense of purpose and meaning in life.
OCCUPATIONAL – Personal satisfaction and enrichment derived from one's work.
PHYSICAL – Recognizing the need for physical activity, diet, sleep, and nutrition.
INTELLECTUAL – Recognizing creative abilities and finding ways to expand knowledge and skills.
ENVIRONMENTAL – Good health by occupying pleasant, stimulating environments that support well-being.
We're supposed to dedicate time and energy to each of those areas??
If you're like me, stopping there would feel pretty overwhelming. Sometimes it's just HARD to keep life balanced, am I right?? Sometimes it can be pretty tough to find time to do just the healthy eating and exercise alone, then adding in nurturing a social support system, dedicating time to your occupation, trying to balance the finances, fitting in time to focus on spiritual health… and we're not even to the bottom of the list yet!
BUT… we are NOT stopping there. Instead, as you continue taking part here at Every Day Incredible, we're going to explore the problem areas. We're going to put our fingers on those barriers that stand between us and meeting our wellness goals. Like with any overwhelming problem in life, it is helpful to take a controlled breath, step back, gather our thoughts, and come up with a plan.
If we don't have a plan to achieve whatever goals we set (wellness or otherwise), the big picture looks jumbled and discouraging. "Where there is no vision, the people perish." There's something to that! We need to clarify our vision so we know where we are headed. Then we can figure out how we're going to get there!
The first challenge I have for you is to examine your level of wellness. When you read through the list, you may have had an area or areas seem to jump out at you. I'd like you to go a step further and really assess each area. In our free membership area, you can find a worksheet to help you do just that, titled "Wellness Self-Evaluation." If you have not yet joined the free membership group to gain access, click here.
Resource:
https://www.samhsa.gov/wellness-initiative/eight-dimensions-wellness